Powerblanket® Barrel/Drum Heaters
Power Plant Supply has stock and can easily get the barrel or drum heater that you need to all specifications.
Storing materials in drums & barrels can be problematic for all but the most shelf-stable products. Food, chemicals, spray foam, epoxies, resins, and other industrial materials often have stringent temperature-range storage requirements.
Effective drum & barrel heaters eliminate waste and lower costs that arise from damaged materials caused by improper storage.
Why Choose Powerblanket® Heaters?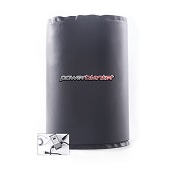 Works on steel & poly drums
Certified to UL/CSA/CE Standards
Available in 5, 15, 30, 55 gal. heaters. Custom is available
Saves time, money, and labour
More Details (.PDF Datasheets)