Duct Spacers
Underground Devices manufactures duct spacers and conduit supports. The duct spacer is used for underground encasement of conduit/nonmetallic cable racking for use in power and communications manholes.
Since its start in 1973, Underground Devices has been a leader in the design and production of duct spacers. Power Plant Supply Company is pleased to offer you their high quality products. Call us at one of our offices or send us a message for more information!
Wunpeece Duct Spacer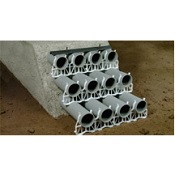 Custom Spacer Units assembled at no additional cost
Easy snap-in design halves labour needed
Designed for use in concrete encased duct banks
For all types of duct in many duct bank configurations
Half as many parts to handle

Eliminates vertical shear plane
We also offer Low EMF (Electro Magnetic Field) Wunpeece Duct Spacers, originally designed for the Los Angeles Department of Water and Power. These spacers can reduce the electro magnetic field at location up to 57%.
Fabricated Duct Spacers that are designed and manufactured to your exact specifications are available. This allows the duct bank to be quickly pre-assembled outside of the trench.
More Details (.PDF Datasheets)
Wunpeece Duct Spacers – Dimension Info
Wunpeece Duct Spacers – Guide Spec