Powerblanket® Gas Cylinder Heaters
Power Plant Supply stocks gas cylinder heaters at all three of our warehouses located throughout Canada to meet your needs.
Featuring patented GreenHeat™ technology, Powerblanket® gas cylinder heaters deliver a barrier of uniform directional heat where it's needed most.
Cold weather can do huge damage to gas cylinders. As a result of temperature drops, it is very difficult to maintain optimal pressure in a gas cylinder, which prevents gas vaporization. Our gas cylinder heaters can optimize container temperatures to increase cylinder efficiency.
Why Choose Powerblanket® Gas Cylinder Heaters?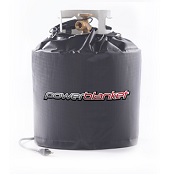 Insulated full-wrap design
Certified to UL/CSA/CE standards
Eliminates unnecessary cylinder refills in cold winter temperatures
Saves time, money, and labour with easy installation & removal
More Details (.PDF Datasheets)
Powerblanket® Gas Cylinder Heater Brochure
Powerblanket® Specs