Powerblanket® Ground Thawing
Power Plant Supply stocks Ground Thawing blankets from Powerblanket at all three of our warehouses located throughout Canada to meet your needs.
The high watt density of our Ground Thawing blankets can deal with the difficulty of thawing ground in harsh climates in Canada.
Why Choose Powerblanket® Heating Blankets?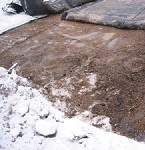 High watt density thaws frozen ground quickly
Qickly remove frost prior to concrete pour
Melt snow and ice from roofs, walkways, and construction areas
Saves time, money, and labour with easy installation & removal
More Details (.PDF Datasheets)
Powerblanket® Ground Thawing Blanket Brochure
Powerblanket® Specs