Heatwave® Floor Heating Mats

Heatwave Radiant Floor Heating Mats by Heatizon Systems are an affordable, convenient way to add heat to smaller areas or laid out together for larger zones. The mats are easy to lay out and install!
The system is then connected to a GFCI programmable thermostat which is included with the kit. They are available in both 120V and 240, and their ease of install makes it the ideal off-the-shelf interior heating solution for handymen, contractors, and the home DIYer.
Why Use Heatwave® Floor Heating Mats?
Benefits of Heatizon Interior Heating:

Limited Lifetime Warranty (see warranty info below for details)
Thermostactically Controlled
Quick, Easy Installation
Promotes Indoor Air Quality
Adds Luxury and Comfort to Cold Surfaces like bathroom tile
Heatwave Mat Sale (50% OFF!)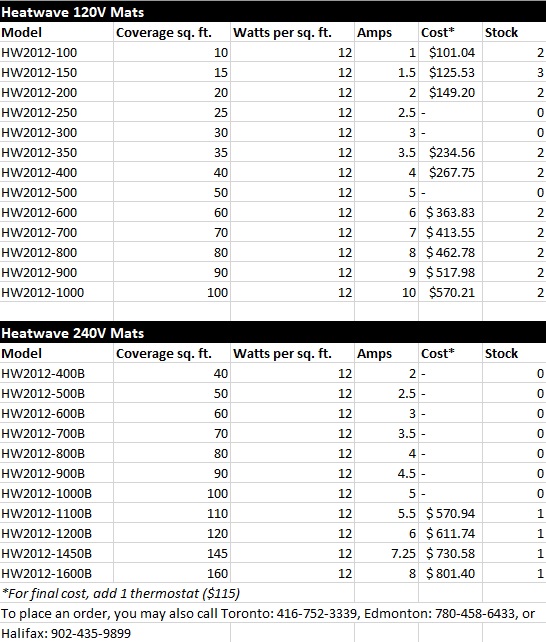 More Details on Heatwave Floor Heating (.PDF Datasheets)
Interior Heating Brochure
Heatwave Installation Guide
Heatwave Warranty Details
Get Your Your Mat Now
Order Confirmation will be returned