Monolithic Isolation Joint
Power Plant Supply's Monolithic Isolation Joints are produced by ALFA Engineering, an Italian company that has manufactured high quality MIJs worldwide in the petrochemical & gas industries for over 30 years.
Isolation Joints serve as a positive leak proof, long lasting block against the flow of electric current in all piping systems. They eliminate short circuits, costly & time consuming field assembly, and loss of insulating capabilities as a result of water infiltration. Give us a call at one of our three offices for your quote!
ALFA Monolithic Isolation Joints®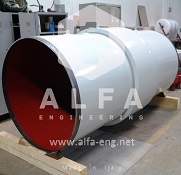 Factory Assembled: boltless and in accordaance to ASTM, API, DIN, and BS codes
Warranted against failure caused by manufacturing defects for 1 year
Registered ISO 9001:2008 Quality Management System
Drastically decereases overall project life cycle costs
This slideshow requires JavaScript.
More Details (.PDF Datasheets)