Multiple Casing Spacers
PSI/GPT Multiple casing spacers are designed to support multiple carrier pipes through a single casing. All custom multiple carry spacers have the same specifications as the Model C and Model S spacers.
Projects have ranged from simple dual pipe configurations to complex pipe/conduit arrangements. All multiple carry spacers are designed for maximum strength and efficiency within pipe specifications. Give us a call for more information!
PSI/GPT Multiple Carrier Spacers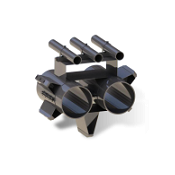 Engineering assistance if required
Excellent corrosion resistance
Designed to last for the life of the piping system
Same high quality as standard isolators
Runners offer 18000 PSI compressive strength

Manufactured to accommodate a variety of pipe diameters, pipe configurations, available for quick delivery
More Details (.PDFs)
GPT/PSI Multiple Casing Spacer Information
GPT/PSI Model C® Coated Metallic Casing Spacer Specifications
GPT/PSI Model S® Stainless Metallic Spacer Specifications
Casing Spacers Catalogue