Roof De-icing & Snow Melting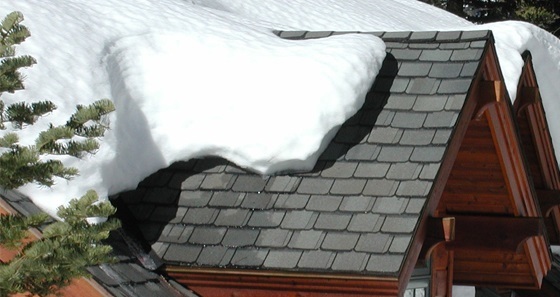 Power Plant Supply Company offers Heatizon products to help avoid the buildup of snow and ice on eavestroughs, gutters, and roofs. We can use low-voltage Zmesh or Tuff Cable for maximum longevity or line-voltage GutterMelt for classic, affordable roof de-icing and protection.
Heatizon products are ETL listed and have been rigorously tested to UL 1588 and CSA standards in USA and Canada. These are the ONLY system listed on the market that follow Article 426 of the NEC for under roof and enclosed panel applications. See a project we did for the prestigious Mont Tremblant Ski Resort!
If you're looking for snow melting systems in driveways, walkways, and stairways, please click here.
Zmesh is installed under new or existing asphalt/shake/tile shingles, ideal for new construction/remodelling. 25 year limited warranty
Tuff Cable in patented Invizimelt Panel solves ice dam and snow load problems for any metal roofing system. 25 year limited warranty
GutterMelt is a self regulating heat trace cable for eavestroughs, pipes and gutters. 10 year limited warranty
Metal Roof Deicing
This slideshow requires JavaScript.
Heatizon's Tuff Cable heating element is a durable 10 gauge coated copper cable that is chemical and gasoline resistant with an industry-leading 25 year warranty. For metal roof deicing applications, Tuff Cable is designed to be installed in our Patented Invizimelt Panels.
Invizimelt Panels are composed of Aluminum Panels that Tuff Cable snaps into providing a quick, easy, and effective way to install both new and retrofitted systems. This can be installed beneath existing roof edge shingle to increase aesthetic appeal of the building.
Non-Metal Roof Deicing
This slideshow requires JavaScript.
Heatizon's Zmesh roof ice melt system is an extremely durable, 9″ bronze screen heating element. Installed under shingles, along eaves and up valleys, they can prevent ice dams, heavy snow loads, and icicle formation on roofs. They have the special ability to be nailed and stapled through for any non-conductive (non-metal) shingle.
This is a popular solution when the appearance of visible heat trace wire might compromise the aesthetics of an expensive building.
Heat Tracing
This slideshow requires JavaScript.
Heatizon's GutterMelt heat-tracing and roof deicing cables are available in Self Regulating (SR) and Mineral Insulated (MI) technologies. SR Cable can be used on roof eaves, valleys, gutters and eavestroughs as well as downspouts and drains. They are easy to install and cut to a fixed length with industry-leading longevity.
More Details (.PDFs)
Snow Melting Information
Zmesh® Data Sheet (Non-Metallic Roof)
Tuff Cable® Data Sheet (Metallic Roof)
GutterMelt® Brochure (Heat Trace)
GutterMelt® SR Cable Data Sheet