Metallic Casing Spacers
When you need a strong, durable spacer for long insertion lengths customized to customer specifications, Metallic Casing Spacers are your best bet. Call Power Plant Supply Company with your questions about sizing and quoting for all your Metallic Casing Spacer needs.
Steel Casing Spacers are available for carrier pipe diameters from 4" – 120" and up to 5,000 feet insertion length. Spacers have 2" wide glass-reinforced nylon runners and a liner which insulates the spacer from the pipe. The liner is made from polyvinyl chloride and TPE liners are available for higher operating temperatures. Steel casing spacers are supplied in two widths; 8" for carrier pipes 24" and smaller, 12" for carrier pipes over 24". Steel casing spacers are an excellent choice when the carrier pipe needs to be centred in the casing.
BWM Copolymer Fusion Coated Steel Spacers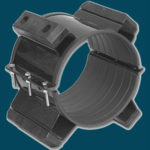 Fusion-Coated with cross-linked epoxy polymer formulation
Excellent corrosion resistance
Designed to last for the life of the piping system
Available in Models FB8 (up to 24″ diameter) and FB12
Runners offer 18000 PSI compressive strength
BWM Stainless Steel Spacers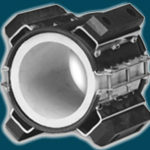 Maximum corrosion resistance
Manufactured from heavy duty 14 gauge 304 stainless steel
Designed to last for the life of the piping system
Available in Models SS8 and SS12
Glass reinforced nylon/polyester runners offer 18000 PSI compressive strength

Manufactured to accommodate a variety of pipe diameters, pipe configurations, available for quick delivery

More Details (.PDFs)